CNN:- Professional football player Gabriel Zakuani has offered his heartfelt thanks to the British public after his missing son was found "safe and well" following a social media post that was shared over 10,000 times. The Gillingham FC defender, who plays in English football's third tier, had posted a social message media appealing for help […]
The post Footballer's Missing Son Found After Viral Social Media Appeal appeared first on St. Lucia Times News Read more
(ABC NEWS) — Before the undertakers could move in, Anusha Kumari wrested herself away from her sisters and flung herself on the three coffins, wailing. In an instant, she was left childless and a widow when suicide bombers attacked churches and luxury hotels in and near Sri Lanka's capital of Colombo. The toll was highest ...
The post Sri Lankan woman loses most of her family in Easter bombings appeared first on St. Lucia News Online.
Read more
(GIS) — As part of the Medium Term Development Strategy for 2019-2022, government aims to reduce recidivism by 30 percent. In addition, Prime Minister Hon. Allen Chastanet said crime hot spots will benefit from a stronger police presence in order to improve crime prevention and detection efforts. Mr. Chastanet said there will be increased foot ...
The post Chastanet: $5.8-million CCTV project, increased police patrols to fight crime in Saint Lucia appeared first on
Read more
(PRESS RELEASE) — Work on the second phase of the John Compton Dam Rehabilitation Project (JCD02) — dredging of the reservoir and transport of sediment — is set to begin in June 2019. The announcement was made by WASCO's representatives, as well as the contractor for JCD02, VINCI Construction Maritime et Fluvial, who met with ...
The post Work on John Compton Dam Rehabilitation Project phase two set for June appeared first on St. Lucia News Online Read more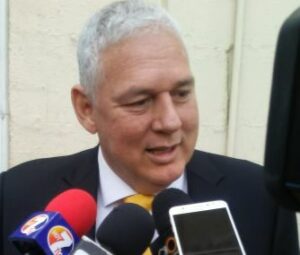 Saint Lucia's Prime Minister Allen Chastanet has again made it clear that his administration will not support the financially strapped airline LIAT, if there continues to be 'business as usual' at the carrier. "LIAT must change," Chastanet told reporters Thursday during an impromptu interview. The former Tourism and Civil Aviation Minister spoke against the backdrop […]
The post Saint Lucia PM Says LIAT Must Change appeared first on St. Lucia Times News.
Read more
The President of the Police Welfare Association (PWA), Travis Chicot, has cautioned members of the public against jumping to conclusions, following accusations of police brutality in the death of  a Marisule male. Saint Lucia Police said this week that the cause of death of 33 year old Ali Smith was not consistent with physical violence. […]
The post PWA Warns Against Jumping to Conclusions When Cops Are Accused Of Brutality appeared first on St. Lucia Times News Read more